Welcome to our Farm
Our farm is situated in the Willamette Valley with fertile soils and healthy crops where you will find RARE Heritage breeds of rabbits and Spangled Russian Orloff Chickens which are on the Critical, Threatened, and Watch list with the Livestock Conservancy. Our mission is to help safeguard these rare, endangered breeds by bringing awareness to increase populations.



Your Choice!

American Chinchilla

​Belgian Hare (Tan & Black/Tan)

Rhinelander (Black & Blue)

New Zealand (White & Red)

Cinnamon

Flemish Giants (Sandy, Fawn, Blue, Light Grey, Black & Steel)

Continental Giants (Steel, Agouti, Chestnut Agouti, High Rufus Agouti, Chinchilla, White and Black)

​

Pedigreed and Pet Quality
Grand Champion Blood Lines
Naturally Fed
Hormone Free!​
Highest Genetic Standards
Clean Healthy Environment
---
*Breeding * Fur * Show* Pets* Farm* Home* 4H*

---
Emotional Support Rabbits
Because many rabbits are known for their docile nature and patience in being handled, we here at Willamette Valley Rabbitry have developed an Emotional Support Animal Program and have partnered with the largest animal database registration organization in the US .
Your Rabbit can be registered but doesn't have to be as a US Emotional Support Animal, which includes a Life Time Certificate of Registration and Photo ID. There is 24/7/365 phone support with a staff attorneys who will get involved and help if your rights are being violated. Doctor letters for Airline Travel and Housing are also available so you can fly and live with your Rabbit without hassle. If not, your doctor can give you a signed statement that your rabbit is providing emotional support.
Allowed in Most Housing Regardless of Pet Policy
Registration Valid in All 50 States
Allowed to Fly on Airplane for Free
Any Rabbit Breed Acceptable
Emotional support animals help individuals with emotional problems by providing comfort and support for Anxiety, Depression, Bipolar/mood disorders, Panic attacks, Stress, Personality disorders, Fear/phobias and PTSD. Check back often for your next snuggle bunnie.
​
---
Our Affiliations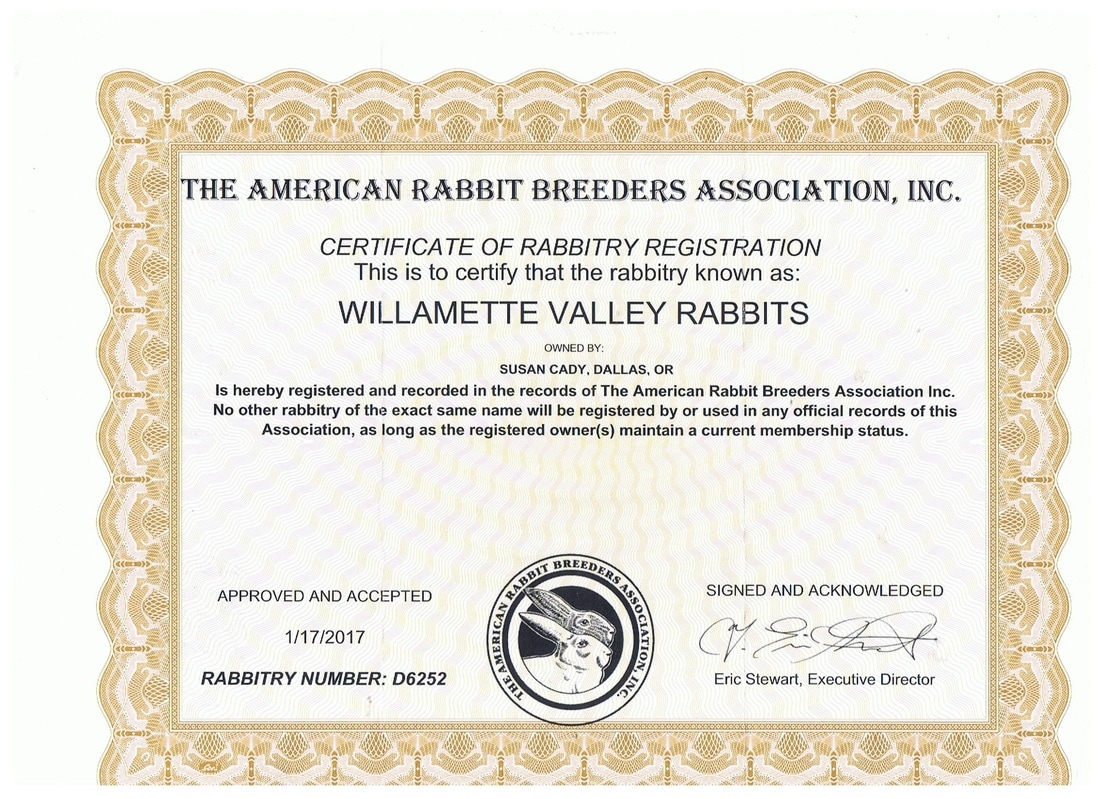 We are proud members of
The Livestock Conservancy
,
The American Rabbit Breeders Association
,
The Oregon League of Rabbit and Cavy Breeders
, Hotot Rabbit Breeders International, Northwest Rare & Heritage Rabbit Breeders Association, Rhinelander Rabbit Club of America, American Belgian Hare Club, The Creme D'Argent, Champagne D'Argent, American Chinchilla Rabbit Breeder Association, The Russian Orloff Society USA & Canada, United Orpington Club, and Ameraucana Breeders Club